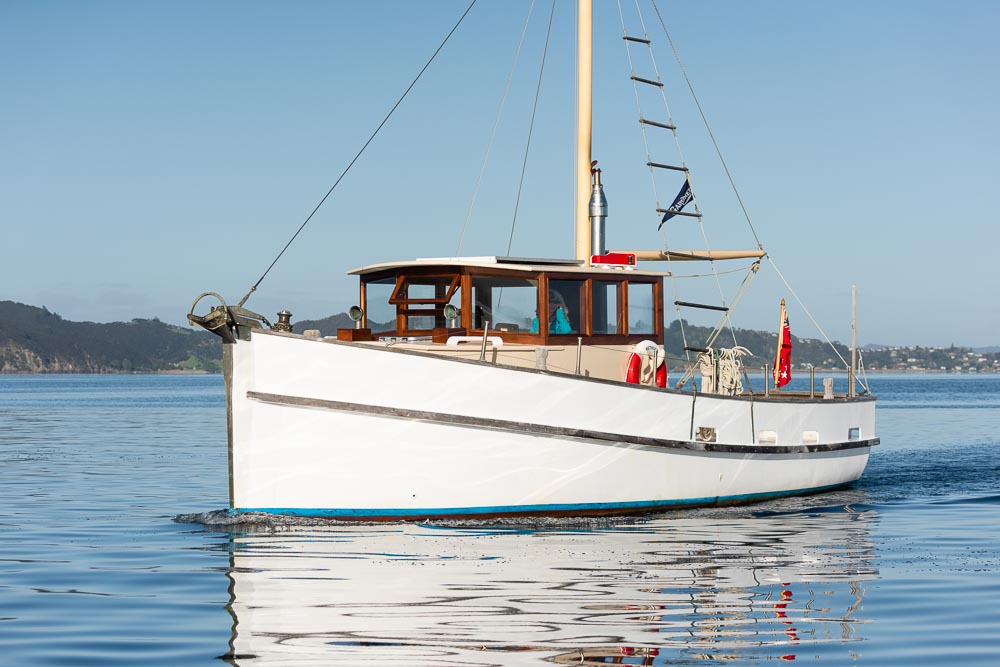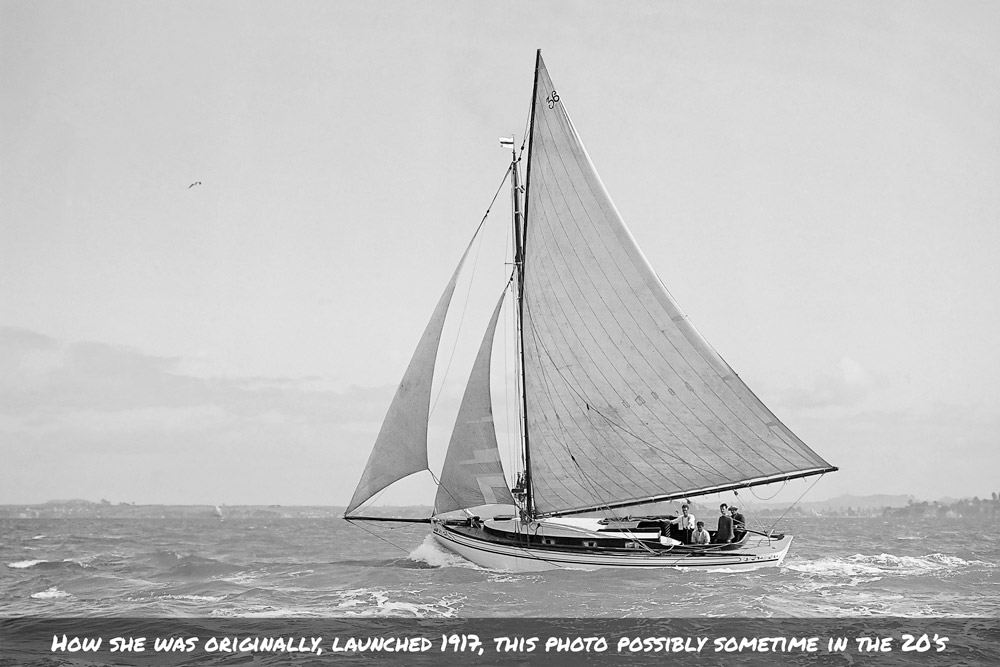 Arethusa was built in 1916, launched September 1917.
She started life as a beautiful gaff rigged cutter (pictured right). Designed and built by Auckland boat builder Bob Brown as his own boat, she's carvel planked and is built from New Zealand kauri and pohutukawa.
Bob Brown had a brother killed in action while serving on the British light cruiser, the HMS Arethusa during WWI. When launched, Arethusa had "Built to commemorate H.M.S. Arethusa" carved into her tuck.
Sailed to Fiji in the 1930's by then owner surveyor Hereward Pickmere, he used her as a base to survey the Yasawa group and other islands for the Fijian Government, producing a set of detailed nautical charts. Back in New Zealand he did some of the charting work from her that was later published in "Pickmere's Nautical Atlas of Northlands East Coast".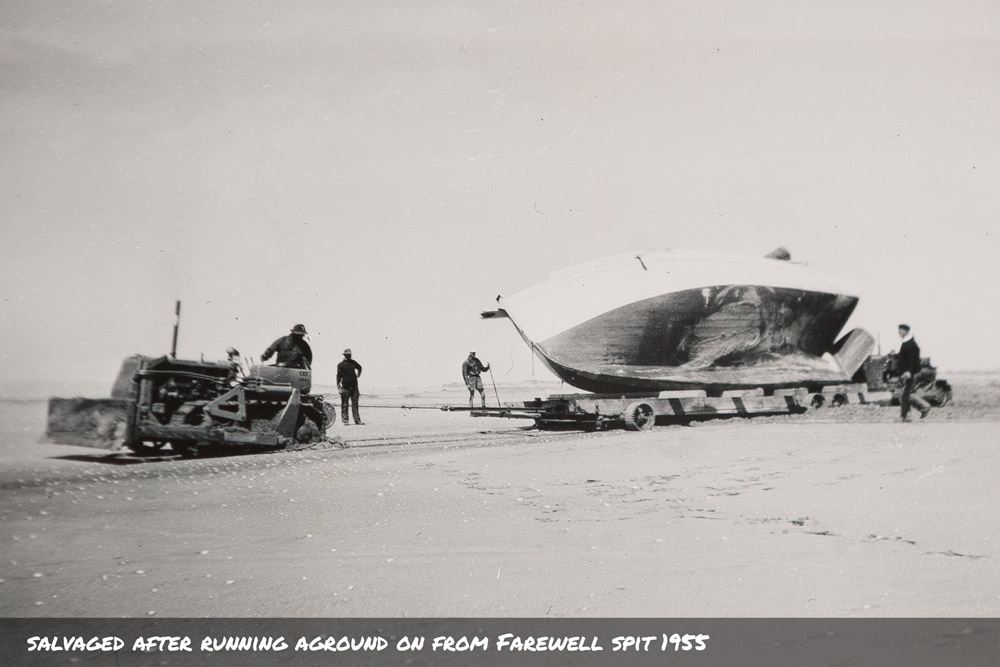 In 1955, while being sailed between New Zealand's North and South Islands by a later owner, she hit a storm and ended up grounded on Farewell Spit.
Salvaged, she spent the next 46 years in the South Island. She went through three different guises from what we can gather, the salvaged pleasure yacht, before conversion to a two masted motor sailer before another makeover to a launch.
For more than 25 years she worked out of ports at the top of the South Island commercial fishing - scalloping and tuna long lining, until 1998.
Retired from commercial work, she's been used as a pleasure boat for the past 24 years. We've owned her for the last fifteen.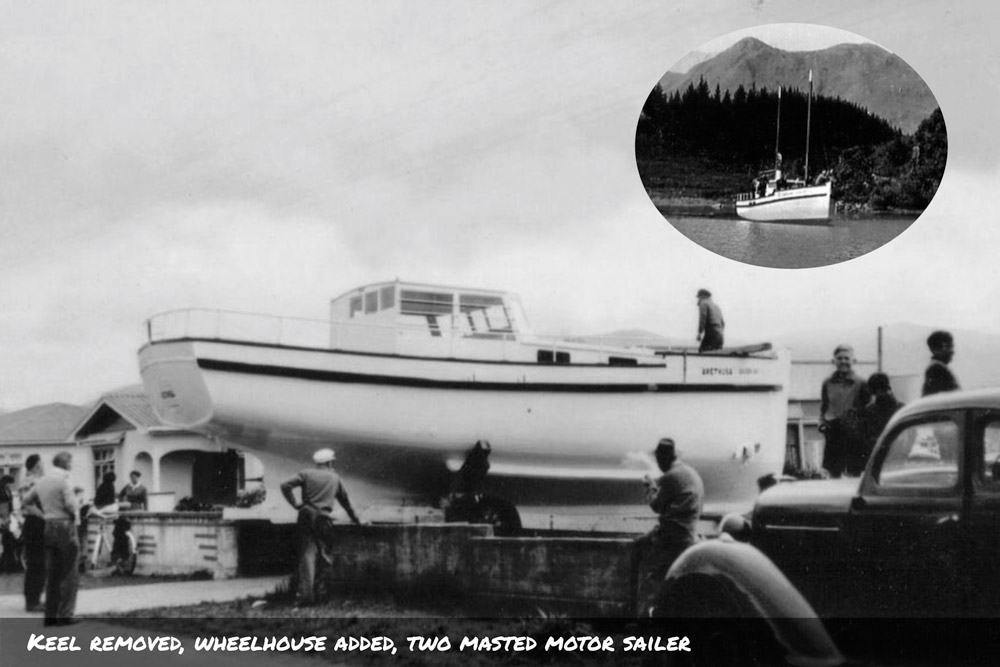 Arethusa's been blessed to have been taken under the wing of retired wooden boat builder John Gander. John learnt his trade with Picton boat builder Roger Carey in the 1960's where beautiful workboats with Gardner diesels were the order of the day. Without his knowledge, sage advice, and skilled work it would have been impossible to own her.
Many upgrade projects have been undertaken. In 2014, the old six cylinder Ford got replaced with a 4LW Gardner, and new floor timbers and engine beds were put in place, expertly done by John. Last year he built a new wheelhouse for her from Iroko, much more in keeping with her age, it's a beautiful thing to live with. You can read about her rolling restoration here
We love this boat to bits, as I tell folks, they'll prise her out of our dying hands. There's something special about chugging around at six knots in a 100-year-old + wooden vessel that so many folk have put their heart and soul into and still going strong after 104 years on the water.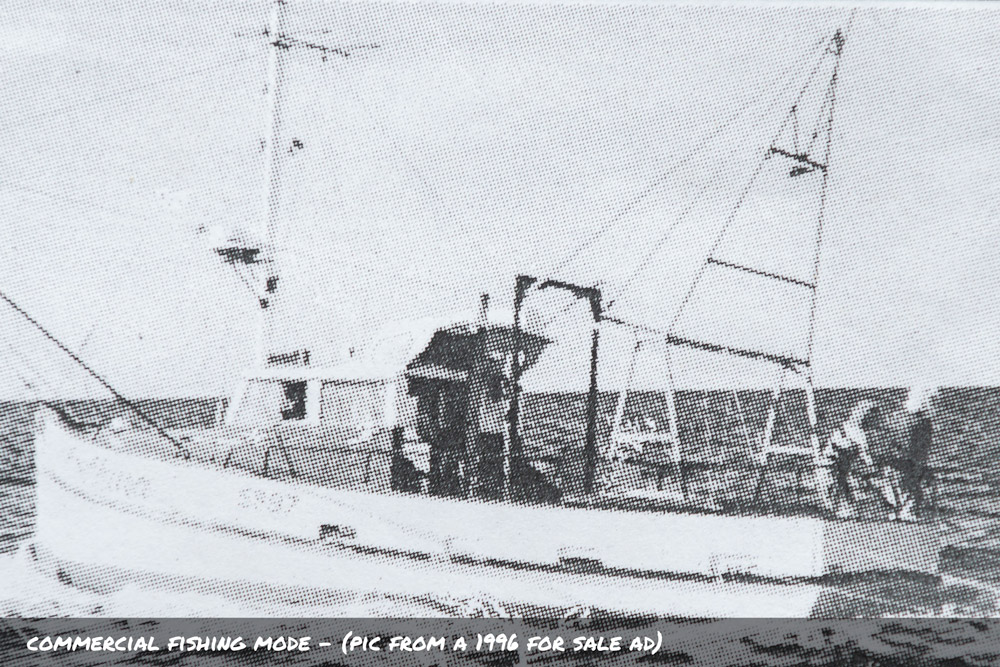 Download "The Voyage of the Arethusa"
Chapter from "Little Ships of New Zealand" (5.2mb)

Download "Pick's Arethusa - Is She Still Sailing"
By Paul Titchener, Boating New Zealand August 1987 (3.4mb)


Download "Arethusa A Yacht Of Many Lives"
By Tracey Neal, Boating New Zealand Sept 1987 (1.6mb)